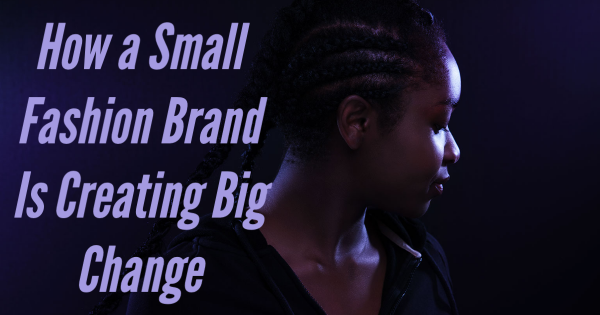 The fashion industry can be incredibly difficult for people to enter in general, due to its competitiveness and the difficulties encountered by artists attempting to sell their creative visions. Despite the fact that women are considered the primary buyers and admirers of fashion by many, men dominate the fashion industry. Women often experience difficulties in becoming designers as opposed to models or muses. It is perhaps especially difficult for women of color to become successful fashion designers. There is a major lack of representation for women in the fashion industry, and it is particularly difficult for those women to break into the category of streetwear. Streetwear is the type of clothing that is typically worn by younger people, especially in more urban subcultures. While fashion designers like Vera Wang are known for their work in the bridal industry, and Sarah Burton is recognized for her work in high fashion as Alexander McQueen's head designer, streetwear is a category that remains elusive to women. Fortunately, Madrell Stinney, the founder of Saint Ivory NYC, understands the issue at hand and is providing opportunities for women in streetwear. Ideally, this will allow for more cultural diversity in fashion.
Saint Ivory NYC has recently dropped a remarkable streetwear range of clothing for exactly this purpose. This line features graphic tees and hoodies and has already collaborated with brands like Rowing Blazers. Browns, Sneakerstuffs, and A Ma Maniere have already committed to carrying the brand. But in actuality, these clothes are not meant to be made for a profit. They were specifically created in order to turn a fashion brand into a nonprofit opportunity, ultimately creating a platform for creative women interested in fashion design. Normally, it would be difficult for women to even access resources in order to explore their creativity. Though art magazines are readily accessible not only in print but online and through mobile devices, it can be more difficult for women to find actual platforms through which they can not only explore but present their artwork. Stinney intends to actually present cultural diversity in fashion by actively showcasing the streetwear designs created by women.
The Inspiration and The Goals Behind Saint Ivory NYC
The inspiration Stinney drew from when creating Saint Ivory NYC can be linked to women as well. Indeed, the title of the brand is linked to Saint Mary's association with private schools. Stinney intended to connect the brand to education, and each collection is released as a different semester. These semesters focus on creative women that the brand wishes to uplift due to their significant contributions to the industry. This isn't limited to women in the fashion industry, however. Women that have worked for architecture companies could just as easily be included if they contributed to those companies on a creative level. However, the first women who ever played professional baseball have also been included in certain designs, among them Toni Stone. Not only did she break ground as a woman playing baseball; she was also a woman of color at a time when it was also difficult for men of color to be successful in sports.
Women do not need to be American to be featured in Saint Ivory NYC's efforts to increase cultural diversity in fashion. A t-shirt features Zaha Hadid, a noteworthy British Iraqi architect who designed the London Aquatics Centre for the 2012 Summer Olympics, the Broad Art Museum, Rome's MAXXI Museum, and many other incredible buildings. By featuring Hadid on their apparel, Saint Ivory NYC is introducing its patrons to a woman who may not be immediately recognizable to a lot of them. But then again, women that have always aspired to be architects could be further inspired by seeing a remarkable female architect uplifted and featured in fashion. Hadid was considered the greatest female architect in the world at the time of her death, and now her image is being made readily available.
Perhaps fewer people are aware of furniture designers; but even those that are fans of furniture designers may not be aware of the women working behind the scenes, often as unsung heroines. Saint Ivory NYC therefore is featuring custom designs that highlight Charlotte Perriand and Lilly Reich. Charlotte Perriand stands out as a French architect and designer, who brought to life Le Corbusier's chaise lounges in her remarkable designs. She was incredibly creative and intuitive. For example, after noticing that the lounge she was working on had legs that resembled horse hooves, Perriand covered it with pony skin. Lilly Reich is equally important to the art of furniture design, especially when collaborating with Ludwig Miles Van der Rohe. As is often the case, the man received more exposure than the woman, which is why cultural diversity in fashion design is so crucial. Despite the fact that she was a key component of the creation of the famous Barcelona chair and the Brno chair, Reich is usually unknown to many. Saint Ivory NYC seeks to highlight her further.
The Capsule Collection for ComplexLand and Benefiting Women Today
Like many fashion brands that are not nonprofits, Saint Ivory NYC is presenting capsule collections. The brand's first capsule collection for ComplexLand is focusing on Brazilian architect Lina Bo Bardi. It will also include t-shirt designs that focus on black women writers, including Toni Morrison and Nikki Giovanni. There is a clear demand for not only cultural diversity in fashion but specific famous creative women being honored through fashion. Fans of these women have long wanted clothing that reflects them properly, and this cannot be achieved through homemade custom t-shirt printing attempts. Saint Ivory NYC offering high quality clothing that pays tribute to Lina Bo Bardi, Toni Morrison, and Nikki Giovanni among other women is truly significant.
Additionally, the proceeds from this capsule collection are being donated to good causes that benefit women and minorities. Some will be offered to the National Organization of Minority Architects, which promotes diversity in the architectural industry. They will also be donated to The Free Black Women's Library, which is a mobile library meant to make books by black women readily available to the public. Through community pop-ups featured throughout Brooklyn, its collection of 3,000 books can be more easily shared. It's clear that Saint Ivory NYC's and product distribution efforts are working. The brand was not initially a nonprofit and only became so after its Semester 2 collection in September 2020. The brand actually donated money to five different organizations, ultimately equaling $5,613.69.
Stinney does not work without advisement from women, understanding that cultural diversity in fashion needs to be achieved with input from women. OlaRonke Akinmowo, the founder of The Free Black Women's Library, worked in tandem with Stinney in order to help him select the women that would be featured on embroidered apparel like t-shirts. She also advised him to select Serena Martin to work on the designs. It's important to note that collections like those created by Saint Ivory NYC can also offer women direct working opportunities in the fashion industry. Akinmowo was originally contacted by Saint Ivory NYC because the brand wanted to offer financial support for its mutual aid fund. Overall, more than $32,000 was raised. This ultimately was meant to support black women directly. This included everyday mothers who were also artists, community activists, and cultural workers impacted by the COVID-19 pandemic. The Free Black Women's Library was not created to make money, but rather to benefit the community at large. Therefore, contributions like those offered by Saint Ivory NYC are hugely important.
Additionally, Saint Ivory worked to really honor Lina Bo Bardi by having new artwork created. Not only is cultural diversity in fashion designs important; so too is cultural diversity within the artist in general. Lina Bo Bardi designed the SESC Pompeia building in Sao Paulo, and in order to celebrate that design Saint Ivory NYC chose to work with both ceramicist and apparel designer Mai Nguyen and Rift Furniture's Erin Flynn. The women worked together to draw from Bardi's designs and especially SESC Pompeia building, ultimately creating a shelf that is meant to pay tribute without mimicking. Not only does this kind of artwork really express what Saint Ivory is attempting to do; it also creates a kind of business continuity for the brand, from the apparel it creates to the artists it supports.
At the same time, this offers new opportunities for artists like Nguyen and Flynn. It can be incredibly difficult for artists, and especially female artists, to be supported and to win commissions. It's even more difficult for them to receive the opportunity to work from brands. Working with Saint Ivory NYC allows them to not only create work but to have it showcased by Saint Ivory NYC online and at events. Stinney discovers many of the artists Saint Ivory NYC ultimately works with through apps like Instagram. Through these types of commissions, not only are the artists able to create funded work; they're also able to potentially catch the eye of other patrons and earn additional projects in the future.
Working to Create Change in The Future
It's important to understand exactly why what Saint Ivory NYC is doing, and what makes the brand's approach to cultural diversity in fashion different from what many more major brands are doing. Rather easily, major fashion designers are able to virtue signal; that is, they can add a small gesture like a button or pin to suggest that they support movements like #MeToo, without actually doing much to make change within their industries. It's much harder to do the kind of work that Saint Ivory NYC is doing, and that work has more long-lasting effects. Real change means hiring more women and furthermore hiring people of color, while also dedicating time and money to worthy causes.
Stinney has plans to focus the future Saint Ivory NYC on supporting those kinds of causes. This is going to include introducing his first cut and sew pieces in 2021. What this means is that the pieces will be customized from raw fabrics, as opposed to being bought from a third-party supplier and then being screenprinted or otherwise changed. While many streetwear designers understandably buy premade hoodies and t-shirts and then screenprint them, Saint Ivory NYC wishes to create its new pieces out of raw fabrics. This will ultimately result in the product being more customized to the brand, which means that Saint Ivory NYC's pieces will also be more specific and custom to the brand and its initiatives.
Another goal for Saint Ivory NYC is to create clothing for schools in the future. Being commissioned to create clothing for schools will further connect with the brand's goals of furthering education for women. This will also provide consistent income for the brand, which it needs in order to be a force for change in the industry, and to provide long term cultural diversity in fashion. What this requires from Stinney is a commitment for years to come. While many brands are created and then sold to fashion giants, with the owners losing their control over their brands, that is not Stinney's intention. In order for Saint Ivory NYC to have longevity and to create the kind of change he wishes to see in the industry, he foresees creating a small but loyal community that promotes female creatives.
Although it may seem ironic to some that a brand born to promote creative women was conceptualized by a man, Stinney intends for Saint Ivory NYC to make a real difference. The brand's future remains to be seen. But at the very least, it represents an opportunity for women to be showcased through clothing and through the very real creative jobs it creates. This in itself promotes cultural diversity in fashion and creates change in a very insular way that could become much more widespread over time. Over time, it could very well be revealed that Stinney and Saint Ivory NYC oversaw necessary progress.